North West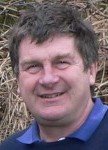 Andy Thompson – North West Regional Director

67 Levens Drive
Poulton-Le-Fylde
Lancashire FY6 8EZ
Home Tel No: 01253 882121
Mobile Tel No: 07973 600092
Email: frufc@btinternet.com
Paul Manning (SE Yorkshire and North Derbyshire)
Mobile Tel No: 07943 706779
Email: shurugby@hotmail.co.uk
A First for Sedgley Park!
Sedgley Park Rugby club made a Donation recently to SOS kit aid. Pictured is Colette Stevens of the Sedgley Park club handing over the kit. She is smiling because the sign is in the entrance to the 1stXV changing room and it was taken as the team were changing for training on a Tuesday evening. She commented it's the first time she had been in that area!! Well done Colette and many thanks for your support.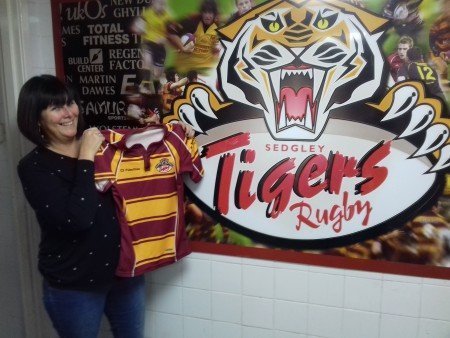 Great Support from St Peters Catholic High School
Many Thanks to the staff and students from St Peters Catholic High School, Orrell, Wigan. Shown is Andy Thompson of SOS kit aid receiving the kit from Rugby playing Students. Thanks also to Sam Callow Master i/c Rugby and Alison Jackson Head of PE.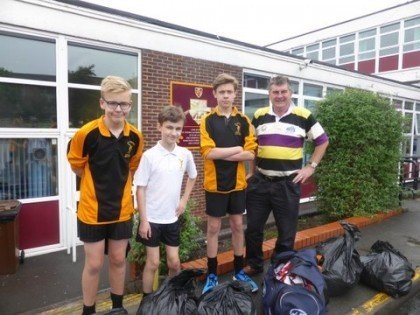 Donation to Sales Sharks Hitz Programme
John Broadfoot, Chief Executive of SOS Kit Aid, seen North of Watford Gap delivering kit to Sale Sharks Hitz Programme. which operates in 5 centers around Manchester including Eccles Rugby Club, Rochdale Rugby Club, and the AJ Bell Stadium the home of Sale Sharks
Picture shows Johnpresenting the kit to Henry Baker one of the Sale Sharks Hitz team at Sale Sharks Training and Administration facility in Carrington, Manchester. The consensus is that it is 3 years since John traveled North of Birmingham.M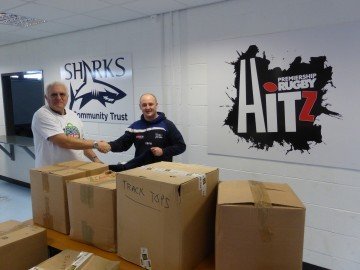 Start of 2013 rugby season see's two early donations
Rochdale RFC has won the race to make the first donation of rugby kit in the North West this season. Pictured on the left below with Andy Thompson are Rochdale RFC chairman Iain Coates and president Terry Collins. A big thank you to Mike Henry of Rochdale as well for another fantastic individual donation of rugby kit.
Thanks also go to the girls of the University of Central Lancashire (UCLAN) for their great donation of kit (pictured below, right).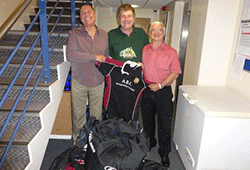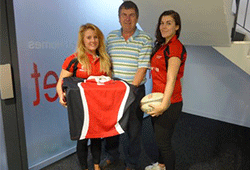 Bolton School reach kit donation milestone
A tenth donation of cricket and rugby kit has been made in the North West by Bolton School.
Paul Fernside, the staff and pupils of Bolton School have been tremendous supporters of LV= SOS Kit Aid over the years and their tenth collection of kit includes a donation from local sports club Bolton Harriers.
North West update
Keith Hall of Carlisle Rugby Club has made a great donation of rugby kit. The kit was collected by North West regional director, Andy Thompson, but Will Halford our North East representative made all the contacts. Thank you to Carlisle Rugby Club.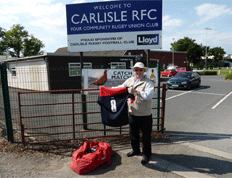 Cumbrian RFU Community Rugby Coach Gary Holmes made sure we received a large donation of kit from Kendal Rugby Club. Handing over the kit at the Mint Bridge headquarters, to Andy Thompson is Jamie Postlethwaite of the Kendal Club.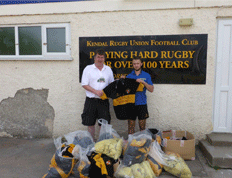 The below photo shows Robbie Jones, master of Rugby at AKS School in Blackpool, loading the last of a great donation of rugby kit into Andy Thompson's kit collecting machine.
AKS is a combination of two schools, Arnold School and King Edwards and Queen Marys School, who in the past have both donated huge amounts of kit to LV= SOS Kit Aid and are continuing to do so. Thank you!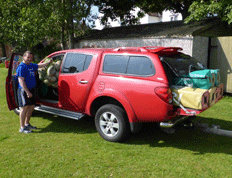 Birchfield club donates rugby kit
Another great collection of kit from a new source this time, Birchfield sports and social club near Widnes in Lancashire.
Thanks to Mike Davies for the clubs kind donation of rugby kit. Mike was unavailable at the time of collection but club member Colin Lawless was on hand to donate the kit (photo below). Colin is also involved with the cricket section of the club and is in the process of sorting some cricket kit for LV= SOS Kit Aid.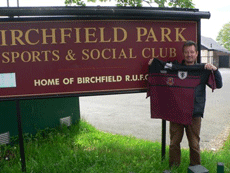 Embroiderers Stitch for LV= SOS Kit Aid
A large box of school ties was donated to LV= SOS Kit Aid along with other more immediately useful items, but reluctant to waste the donation an initiative involving the Embroiderers' Guild was launched.
At their AGM last October each of the 27 branches of the Embroiderers' Guild north west region was given a LV= SOS Kit Aid collection bag containing a selection of ties. The embroiderers have been tasked with using the ties to create items for an exhibition entitled 'Ties that Bind'. Dresses, bags and many other items are being stitched and embellished.
Each Branch was asked to refill the collection bags with sports kit to donate to LV= SOS Kit Aid.
The Embroiderers' Guild north west held their annual regional day at Kirkby Lonsdale in Cumbria on Saturday 27 April – not many such events have seen embroiderers carrying in bags containing cricket bats, pads, boots and items of sports wear!
Monica Selway, Embroiderers' Guild North West Chairman (pictured below) was able to hand over a substantial 'haul' to LV= SOS Kit Aid and the thousand or so north west embroiderers are keeping busy preparing for the embroidery exhibition in 2014.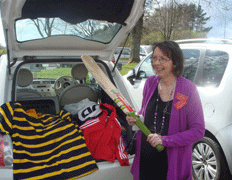 Merseysiders add to the cricket kit collection
Irby cricket club from the Wirral, who play in a very strong Cheshire league, have made their first donation of cricket kit to LV= SOS Kit Aid.
This is the latest donation of kit from the North West, which played host to a world record kit donation earlier this year, where Aldwinians rugby club collected the largest amount of second hand and unwanted rugby shirts ever to celebrate their 75th anniversary and donated the kit to LV= SOS Kit Aid.
Pictured below is Alan Kenzie of Irby Cricket club donating the cricket kit to LV= SOS Kit Aid and hopefully this won't be the last donation of cricket kit made in the North West.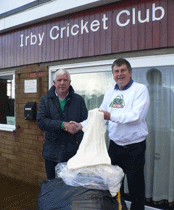 Aldwinians RUFC collect record breaking number of shirts for LV= SOS Kit Aid
Aldwinians RUFC marked their 75th anniversary in style on Monday 7th May by collecting the largest number of recycled and second-hand rugby shirts ever and will be donating all 10,000 shirts accumulated to the LV= SOS Kit Aid scheme, for distribution to disadvantaged young people.
The Aldwinians 1st XV pitch was covered in the kit and will now be repackaged and sent to young people around the UK and overseas as part of on-going work undertaken by The Lord's Taverners backed LV= SOS Kit Aid initiative, which reached its first birthday in May.
Members of the public came in their numbers to the unveiling of the record breaking kit collection on Monday 7th May at Aldwinians RUFC, Audenshaw, Manchester. Former England and British Lions rugby internationals, Fran Cotton and Steve Smith were also on hand to support the ground-breaking initiative as they unveiled the record breaking 10,000 rugby shirts on the Aldwinians 1st XV pitch.
The Manchester club also had superb help from the Bank of New York Manchester Branch (four of their staff helped sort and pack at least a third of the 8000+ shirts that Aldwinians collected), who gave up their time for the cause through the 'Make a Difference' scheme.
New Farnley Cricket Club make great kit donation
Thanks to Richard Good who helped to organise a very generous donation of cricket kit to LV= SOS Kit Aid. Richard is pictured below loading a huge amount of cricket kit into the van of our Northern Director.
Aldwinians RFC set for World Record Kit Collection attempt
To celebrate their 75th anniversary, Aldwinians RFC from Manchester have set themselves the target of acheiving a Guinness World record by collecting the largest amount of rugby shirts ever and will donate it all to LV= SOS Kit Aid.
The club based in Audenshaw, Manchester, is aiming to fill their entire 1st XV pitch with rugby shirts and it is estimated it will take the collection of 15,000 to 20,000 shirts to achieve this.
Aldwinians RFC have chosen 7 May 2012 as their world record breaking day.
Littleborough DonateLittleborough RUFC
Thanks must go to Brian Hurst of Littleborough RUFC who on behalf of the
club collected and donated a fantastic amount of kit which was presented to
SOS during a visit to the Club by Andy Thompson.
In the picture on the right is Littleborough President, Andy Thompson and Brian Hurst.