West
Richard Westaway (Regional Director) – Gloucester, Wiltshire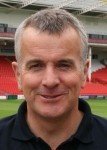 11 Durley Park
Neston,
Wiltshire ,
SN13 9YG
Home Tel No: 01225 811756
Mobile Tel No: 07775 824174
Email:richard@rwwtc.co.uk
Warminster School
A huge thanks to Tim Watts Director of Sport for a very kind donation of
shirts and socks from Warminster School. Pictured from – Left to Right
are Adam, Tim and Pip from Warminster School Sports Dept.
Thanks again to all at Warminster.
Melksham RFC
Another fantastic donation from QEH School Bristol, a huge amount of various items of kit (shirts / boots / training tops / shorts) all of which will be put to great use. A massive thanks to the amazing Nancy Brenchley for once again arranging this excellent donation. Thank you for your ongoing support it's very much appreciated.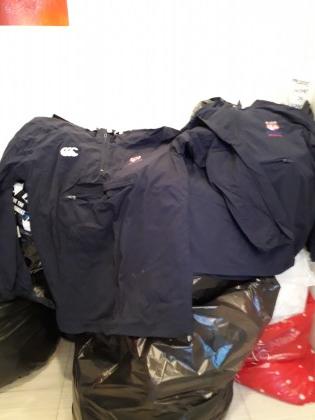 Huge Thanks to Sheldon School
Huge thanks to Adam Douglas, Head of PE at Sheldon School Chippenham, Wiltshire, for arranging the fantastic
donation of 4 x sets of rugby shirts ranging from U13s to U18s, all of which will be put to great use.
Many thanks Adam ,….. keep the kit coming.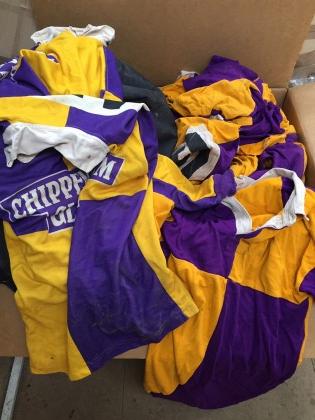 Bath Saracens Donate Kit to SOS Kit Aid
With generous sponsorship provided over the last two seasons by local businesses; Everything IT and the BMT group, Bath Saracens rugby club purchased two new sets of match day kits. This left them with kit from previous sponsorship deals that were no longer required.
Sarries committee members recently met with Regional Director Richard Westaway of 'SOS Kit Aid' and handed over two complete sets of shirts. Now they can make a positive and tangible impact on young people's lives by giving them the chance to participate in sporting activities; promote social inclusion; and protect the environment.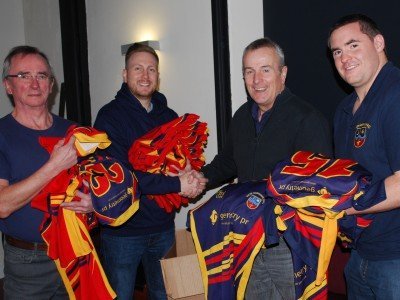 Photo provided shows left to right:
Dave Pyles (chairman, Bath Saracens), Rob Langan (Bath Saracens committee), Richard Westaway (regional director SOS Kit Aid), Ed Bell (club captain, Bath Saracens)
Great Collection from Cinderford RFC
Huge thanks to Julian Kibble & John Wood in the picture for the support and for arranging
the kind donation of a great collection from Cinderford RFC …5 x sets of shirts + balls + cones
Thank you very much.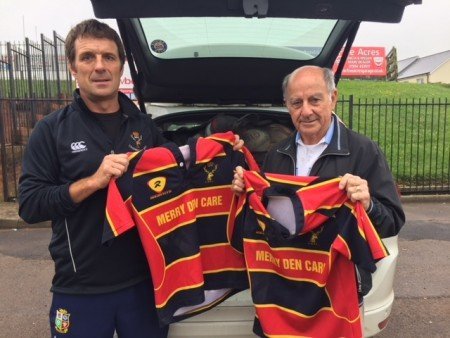 Avon RFC Make Kit Donation
Huge thanks to Chris Mutlow ( on the left ) for arranging a terrific kit donation of 5 x set shirts and
thank you very much to everyone at Avon RFC, the kit will be put to great use.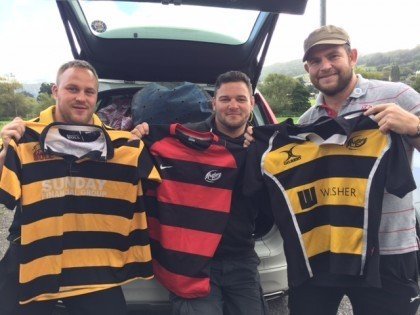 Thanks to Bath University Rugby Club
…and it keeps on coming in! Very many thanks to Bath University RFC for a great donation of kit. We are hugely grateful for thier support which will enhance the lives of disadvantaged youth through rugby. Pictured l-r: Aaron Smith and Chris Lilley of BURFC.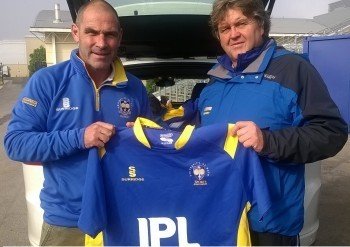 Another very successful Golf Day with SOS Kit Aid
The annual SOS Kit Aid South West Golf Day was held on Friday 4th September. It was a hugely successful event with 28 teams fighting it out around Kingsdown Golf Club which was in fantastic condition. Our SOS Ambassadors and guests Gareth Chilcott – Graham Price – Steve Spiers – Andy Deacon – Simon Devereux presided over the whole day and Graham & Steve aka big Al concluded everything with a most entertaining and hilarious prize giving.
Richard Westaway Regional Director added…"The day is not only about raising much needed funds but we are reaching out and informing more and more people about what do. With 100 + people attending and playing in our ninth year the event has turned into one of our most important days in the charities calendar. The monies raised will enable to us to continue our valuable work to help and support underprivileged kids to play rugby in developing countries.
Our thanks to all of very loyal sponsors and supporters who combine to make this a truly successful day for SOS. Also a massive thanks to Pat Bunton for the kind kit donation ( 5 x sets of shirts ) on behalf of Oldfield RFC.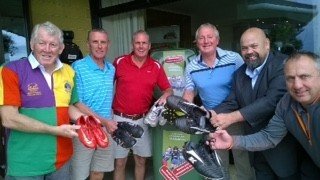 The Prize Winners –
Individual Winner :- John Moss
2nd Place :- Tim Chappell
3rd Place :- Stuart Faint
Team Winners – Cunning Linguists :- John Moss , Robert Fry , Michael Moss , Barry Moss – pic 9655
2nd Place :- SM Harris & associates
3rd Place :- Spindogs
Bristol Ladies RFC
Many thanks to Bristol Ladies RFC for their donation of rugby kit and continued support, especially to Heidi Chapman-Mercer who organised it all. They have retained a collection box for future donations.
Pictured below from left-right: Sian Moore (Welsh International World Cup/1st XV player), Heidi Chapman-Mercer (CEO Bristol Ladies RFC) and Izzy Noel-Smith (1st XV player) donating the kit.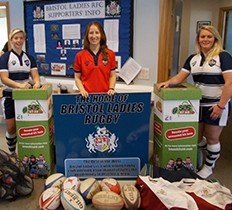 Thank you Bath Rugby
Bath Rugby have once again shown themelves to be the standout Premier League Rugby Club when it comes to supporting SOS Kit Aid.
The club, currently sitting second in the Aviva Premiership, have made a massive kit donation to the kit recycling initiative with everyone from the Community Team to the Foundation chipping in.
The donations includes rugby balls, t-shirts, bibs shirty and shorts. Bath Rugby were also aided by Prior Park School who added three sets of shirts to the donation.
Thank you so much to all involved and pictured below is Jack Howden who arranged the collection.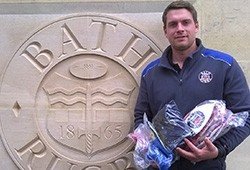 Royal Wootton Bassett Rugby Club
Wiltshire based rugby club Royal Wootton Bassett RFC have made a great donation of eight bags full of various rugby kit and a small amount of cricket kit. Big thanks to Mel Inkpen at Royal Wootton Bassett for arranging this kind donation, which is our second donation from the club.
Oldfield RFC mark start of rugby season with kit donation
At the very succesful Kingsdown golf day, which raised £5,000 for LV= SOS Kit Aid, CEO of Oldfield RFC Pat Bunton was very happy to donate a full set of rugby shirts on behalf of the Bath club to our ambassador Graham Price (pictured below). This is their second donation and another one we are very grateful for.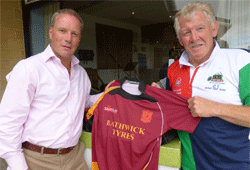 Chippenham RFC make pre-season contribution
A big thank you to everyone at Chippenham RFC, especially Mike Wheeler (pictured below) for their very kind donation of 3 sets of shirts to LV= SOS Kit Aid.
Chippenham RFC who are based in Wiltshire have 3 men's teams and a thriving colts section for both boys and girls.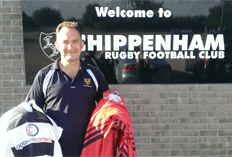 Update from the West
Latest kit donations below, thank you to all who have donated:
Jackie Abendanon – seven bags of rugby kit
Bath Rugby Foundation – Training bibs, balls and kit
Bola Ltd – 500 cricket balls
Keynsham RFC – Six sets of rugby shirts
Mrs Christian Blake – seven bags of kit
Daunstey School – great donation of cricket kit
Wiltshire cricket clubs make valuable kit donation
West regional director Richard Westaway was very happy to receive two donations of cricket kit from Shrivenham Cricket Club and Trowbridge Cricket Club from Wiltshire in February.
Shrivenham CC made a fantastic donation of six large cricket bags full of equipment. Thanks go to Richard Kewell for helping to arrange the kit collection, while Trowbridge CC also made a great kit donation, consisting of four large cricket bags which mainly consisted of brand new equipment. Thank you to Christine Davies at Trowbridge for making this possible.
Salisbury RFC add to kit collected from the West region
Thank you to Terry Taylor, Commercial Manager for Salisbury RFC, who made a kit donation of over 100 rugby shirts to LV= SOS Kit Aid.
Thanks to Salisbury RFC Chairman, SImon Hedges and all at the club for their ongoing help and support. Pictured below is Terry Taylor of Salisbury RFC with the donated kit.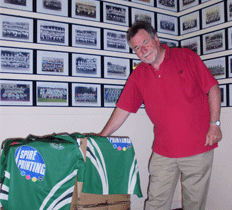 Oldfield Oldboys make kit contribution
Chairman of Oldfield Oldboys RFC, Pat Bunton, was delighted to present rugby legend and LV= SOS Kit Aid ambassador, Graham Price, with a donation of over 40 rugby shirts on behalf of the club from Bath.
Pictured below are Pat Bunton and Graham Price with the kit donation.